Jesus Healing Power Today


It's Real And It Will Heal YOU

In Pain, Sick, Incurable Condition?...Not A Problem For Jesus!
Jesus healing power is alive and active today...Now more than ever. Countless people worldwide are receiving healing miracles, and Jesus wants to heal you too.
But wait! There's more...God not only wants to heal you completely, He wants to empower you to heal others with the supernatural healing power of Jesus Christ.
Miracle healing power is available to you...Yes, You...today.
Need healing in your body for any condition?...Want to experience God's supernatural healing power?...Discover How Here...

What Will You Find On The Jesus Healing Power Today Website?...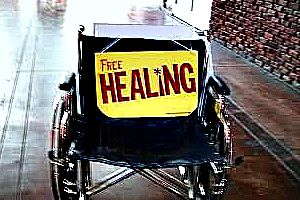 Jesus Heals You For Free!
This website is loaded with valuable resources and practical information about how you can be healed. BTW, many of these resources are absolutely FREE!

Here you will find healing scriptures...modern day miracle healing testimonies...practical help on how to be healed...how to heal others...healing prayer training...Jesus Heals books... healing dvd's & cd's...free healing audios and videos...healing schools, courses, and workshops that enable you to release Jesus miracle healing power...healing ministries...articles by guest experts on the topic, Jesus Heals...get your personal questions answered...and much more.
This website exists to serve your healing needs. It is interactive and values your input. You are invited to ask questions, recommend books and articles, submit your reviews of resources listed on this website, and enjoy ongoing new content from our global website visitors, as they share their own miracle healing testimonies, and recommend additional Jesus healing resources.

The valuable information you will discover here about Jesus' desire and supernatural power to heal all people of all sicknesses, along with practical how-to's...how to be healed, how to release healing power to others...assures the success of your own personal experience of Jesus' healing power today. You, too, can be healed by Jesus.

How Can I Make These BOLD Statements?...

It's easy!...First, from Jesus' own words.  There are numerous scriptures on healing in the Bible.  To view the best of them, click on the Healing Scriptures button in the left column, and discover it is absolutely God's Will for you to be healed!

Secondly, my own personal experiences of 25+ years...In 1989, Jesus healed me of an "incurable" physical condition.  And now, for over 25 years, I'm not only healed, I have walked in perfect health...I also regularly experience the pure joy of being an instrument of the miracle healing power of Jesus Christ for others.  I have seen hundreds of people healed worldwide with my own eyes, and through my own hands...and there's nothing "special" about me...It's all about Jesus, and His healing power is available to all.

What Jesus did for me, he will do for you too! You can read about my own miracle healing story...Jesus Healed Me.

But don't just take my word for it...Explore the many resources on this website...from both experts and everyday people just like you. Do your own research, discover the truth of the healing power of Jesus Christ, and be healed today.

Have You Been Deceived By Lies About Jesus Healing Today?...

They sound something like this...
Jesus Christ doesn't heal today...
Jesus only heals people who believe in him...
You have to be a "good Christian" for God to heal you...

Miracle healing ended with Jesus and his apostles..
God puts sickness on people to punish them, or test them...
These Are All Lies!...
The information you discover here will prove it...straight from God's own Word, the Holy Bible...and by the documented demonstration of His power today, the modern day healing miracles of Jesus.

What You Will Discover, Learn, and Experience About The Healing Power of Jesus...

Explore the pages of this website and learn...
How To Be Healed
How To Walk In Divine Health
How To Receive Your Healing Miracle
How To Release Jesus' Supernatural Healing Power
How To Heal Others, In The Name Of Jesus
And more...as this website continues to grow and expand, in response to your needs, interests and input

Sick and dying people, worldwide and daily, are being miraculously healed by Jesus, even from chronic and so-called "incurable" illnesses...Simply by discovering the valuable resources on this website, then learning and applying the information provided, PEOPLE ARE BEING HEALED BY JESUS CHRIST TODAY...FOR REAL!
Where Do You Go From Here To Receive Jesus Healing For Yourself?...

Whatever drew you to this website, the information you'll discover here will be of great value to you...
Whether you need physical, emotional/mental, or spiritual healing...You want to release the awesome healing power of Jesus through your own hands...Or you're simply curious about this very controversial topic...
Enjoy exploring the pages of JesusHealingPowerToday.com. Return to this site for inspiration, check out the regularly added new content, build your faith and your knowledge of Jesus' power today to perform healing miracles for you... and through you!

Share your own healing testimonies with other site visitors. 
Add your recommendations and reviews of the informational resources and products, favorite healing scriptures, healing prayers, healing schools, workshops & courses, healing prayer training, and Christian healing ministries.

Ask your specific questions in the Question & Answer section, and find the answers you need right here about Jesus' healing power.
Then BE HEALED in the name of Jesus!
Use the Navigation Buttons in the left column of every page to explore topics that interest you.
To start with, you might want to take a look at...
FREE Weekly Healing School Teachings (Watch free online live-stream, or free on-demand video archives)...
Welcome!...Looking forward to hearing about your personal experience with Jesus healing power today!
Please Take Our Visitor Survey!
This website exists for the needs and interests of it's visitors. Please complete the short, anonymous survey below, so we can better serve you. Thank you!