Guest Expert Articles By


Andrew Wommack, on the topic of Jesus Healing



(

SCROLL DOWN

for more articles by Andrew,
and Other Guest Experts)
Andrew Wommack teaching from the Bible
Andrew is the founder of Andrew Wommack Ministries & Charis Bible Colleges. With over 47 years in ministry, he hosts the daily Gospel Truth TV shows, seen worldwide by millions in over 170 nations.  He is an international speaker and the author of many books on the "Gospel Truth" message of the word of God, the Holy Bible. 
Andrew Wommack is a renown bible teacher, who speaks simply and with authority on the Gospel of Love and Grace message of Jesus Christ. And Andrew is an expert on the topic of Jesus healing power today....as he himself has been healed by Jesus on numerous occasions...has witnessed countless miracle healings of Jesus at his speaking engagements worldwide...He has even seen his son raised from the dead!

In this guest expert article for JesusHealingPowerToday.com, Andrew Wommack speaks on the topic of Jesus healing...

Healing Is The Children's Bread
by Andrew Wommack
A teaching article by Andrew Wommack...
But Jesus said unto her, Let the children first be filled: for it is not meet to take the children's bread, and to cast it unto the dogs.
Mark 7:27
This was a strong statement that Jesus made to a woman that came to ask Him to heal her daughter. Jesus was telling her that she had no right to ask for healing, since she wasn't Jewish. Wisely and remarkably, this woman humbled herself and pleaded for mercy instead of trying to demand her rights. She didn't have any rights. And when Jesus had mercy on her, she returned home to find her daughter healed. It's that simple. She received based on Jesus, not on what she deserved.
Many of you may wonder, If God heals today, then where is it? How do I get it manifest? You believe it works, but you don't know how. Maybe you've seen someone stand and not get healed. Or maybe you have stood for your own healing and have not seen it manifest. Whichever it is, your faith has been shaken as a result. Well, I want you to know that God wants you well. And I want to share with you how it works.
One of the things you have to be convinced of before you even approach this is that healing is in Christ's atonement. Look at what it says here in 1 Peter, talking about Jesus:
Who his own self bare our sins in his own body on the tree, that we, being dead to sins, should live unto righteousness: by whose stripes ye were healed.
1 Peter 2:24
Notice how it says Jesus took stripes for your healing! It's yours! It's one of the things Jesus bought for you through His sacrifice! And this verse says, "Ye were healed" (emphasis mine)—past tense. This is such a clear statement that I wonder how any Christian could not believe that. But I've learned that many people don't let the Bible get in the way of their theology. Even some who believe God can heal don't believe He will or has already healed. They say things like, "Well, God heals but not all the time. Sometimes it's not His will." But it's hard to argue with a past-tense statement like that of 1 Peter 2:24.
It's taken from a prophecy Isaiah gave in Isaiah 53, which says,
But he was wounded for our transgressions, he was bruised for our iniquities: the chastisement of our peace was upon him; and with his stripes we are healed.
Isaiah 53:5
Some people try to make this mean Jesus only took stripes for our spiritual healing. Well, he did suffer for our spiritual health, but let's look at how the prophecy was fulfilled, in Matthew 8:
When the even was come, they brought unto him many that were possessed with devils: and he cast out the spirits with his word, and healed all that were sick: [17] That it might be fulfilled which was spoken by Esaias [Isaiah] the prophet, saying, Himself took our infirmities, and bare our sicknesses.
Matthew 8:16-17, brackets mine
This makes it clear that Jesus suffered for your healing! It belongs to you.
Healing is the children's bread. It's your portion. It's what God has given to you. If you're a Christian, healing belongs to you! If you just meditate on the implications of this for a while, it'd go a long way in seeing healing manifest. You'd just realize, I don't have to be sick. That's exactly right.
Many people believe that God wants them well, but they don't understand how it works. I've got a lot of revelation on this. I don't know it all. I haven't arrived, but I've left and I've seen awesome miracles, including my own son being raised up after over four hours of death. I've devoted all of March's television programs, and even some of April's, to sharing these truths. We've also put together a lot of my teaching that will specifically share with you how you can receive the healing Jesus has already provided for you.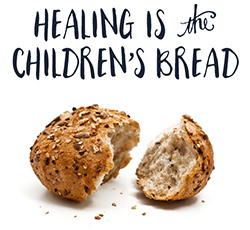 What I want to do with the rest of the space of this letter is share with you some of the healing testimonies through Andrew Wommack Ministries of how it's worked in people's lives. These are regular people just like you and me. Don't think that they are better than you or more spiritual—that is not what this is about. This is about what Jesus paid for and not about your performance. This isn't just hearsay. You can see and hear these testimonies and eighteen others online, at the Andrew Wommack website, www.awmi.net/extra/healing.
From the time Hannah Terradez was born, she had a rare autoimmune disease called eosinophilic enteropathy, which meant her body built up allergies to nearly every kind of food. Her immune system would attack food she'd eat and then reject it. There was no known cure, only a radical survival method: a feeding tube. And at the age of three years old, she was still wearing nine-month-old baby clothes!
But one day, her parents, Ashley and Carlie, got hold of one of my old tapes and heard me say, "By His stripes, we were healed." After the tape finished, they'd heard the nearly-too-good-to-be-true news. Hope began to arise in their hearts. Carlie said, "We'd never heard Scripture revealed so clearly and simply. The Word took root in our hearts and became more real to us than what the doctors were saying." Then Carlie realized that Hannah had spoken like this every night for their bedtime prayer, saying, "Dear Jesus, thank You for loving me and for healing me." They just realized that in her childlike faith, she had been praying a profound truth all along. It was a done deal!
The next day, they found where I was holding meetings and brought Hannah to have me pray for her. I told them it was a piece of cake for God to heal her and all they needed to do was agree with me in prayer. I took authority over Satan, telling him to leave, and commanded Hannah's body to stop attacking food and to be well. Then I told Ashley and Carlie they needed to walk out what they believed. They would have eased her into a normal diet, but once again, Hannah was ahead of them, saying, "I want to go to McDonald's!" And that settled it for Ashley and Carlie. They couldn't find a McDonald's, so they took her to Kentucky Fried Chicken, where she ate chicken nuggets, ice cream, yogurt, cheese, chocolate, and fruit juice for the first time in her life! She's been eating normally ever since! Praise the Lord!
How did this happen? They got hold of the truth that by Jesus' stripes, Hannah was healed, and then with childlike faith—BOOM—her healing manifested! And it wasn't just because I prayed for them. They had to stand on this for themselves when the symptoms tried to come back.
Let me share with you one more testimony. This one's about Mike Hoesch. Back in 2000, he had an itch on his chest that persisted, and when he examined the area, and he noticed a pimple-sized sore. He dismissed it, but the itch remained.
Months passed and the sore hadn't gone away; it began to worsen. Although he believed in healing, he'd been involved with a ministry for twenty years that focused on performance-based doctrine. So, while he knew healing was available, he believed it was conditional upon his efforts. He continued to suffer, as the sore began to grow.
After trying herbal remedies, to no avail, he went to see a doctor, thinking it was no problem. But when he learned it was a malignant neoplasm, a cancerous skin tumor, he panicked! But not wanting to do anything driven by fear, Mike cancelled his appointment with the surgeon.
Over the next several years, the growth became a very large and troublesome tumor requiring cleaning and bandaging several times a day. The tumor slowly drained the life out of him, and in his weakened condition, he was forced to quit his job.
Mike purposed in his heart that he would seek the Lord and spend time in His Word. While his intentions were good, he struggled as he began to see things in the Word contrary to what he had been taught over the previous twenty years. Still confused, he began confessing healing Scriptures, not out of understanding, but out of a desire to earn his healing.
One day, as he was wrestling with faith and his beliefs, a friend brought him my teaching You've Already Got It!. As he began listening, the Lord confirmed things He had been showing Mike in the Word. He started rejoicing: "It just blessed me so much when I heard Andrew Wommack sharing these things. It was like, yes, yes, I've already got it! I was waiting for the Lord to intervene again on my behalf, but he had already done that in Christ. Everything that I had, every sickness, disease, or sin that I'll ever commit or had committed—Christ bore!" With his faith strengthened, Mike completely let go of his tumor, switching his focus to Jesus, to receive what He had provided.
A month after this, his wife noticed the tumor had decreased in size. At one time, this would've sent Mike through the roof rejoicing, but because of his newfound steadfastness in the Word, his reaction was one of calm expectancy. He had come to realize the cancer had to leave because of what Jesus had already done for him, and about five months later, his chest was clear.
These are just two examples of how it works! You may have a different situation, but these same truths will work for you too. Remember, healing is your bread—it belongs to you. Once you have that settled, your childlike faith will be rekindled that God has already done it. Then you need to take your authority over the devil and walk out what you believe.
Andrew Wommack
(reprinted with permission of Andrew Wommack Ministries)

More Andrew Wommack Teachings On Healing...
Articles By Other Guest Experts On Jesus Healing

Learning To Walk In The Supernatural. By Dr. Randy Clark, International Minister & Author
Does Jesus Still Heal Today?  By Joan Hunter, Healing Evangelist, Teacher & Author

Truths About Healing...Three spiritual truths from a story about a man seeking healing from Jesus. By Greg Mohr, Director of Charis Bible College, Author, & Bible Teacher

Faith Is An Act! By Audrey Mack, French Bible Teacher, International Speaker
The Word Will Heal You! By Audrey Mack, French Bible Teacher, International Speaker

Reasons For Healing And Miracles, by Benny Hinn, International Speaker, Author, and Bible Teacher
God's Miracle Power, Keys to healing like Jesus, by Matt Sorger, Teacher, International Speaker & Author
How Christians Open The Door To Disease...And how to shut it! By Mickie Winborn, Charisma Magazine Writer

Is It God's Will To Heal?, plus 8 additional blogs on Healing, by Barry Bennett, Charis Bible College Dean of Students, and Bible Teacher

To send us your healing testimony, click here

For more on Jesus' healing power today...
FREE Weekly Healing School Teachings (Watch free online live-stream, or free on-demand video archives)...
Healing Scriptures Of The Bible...
Jesus Healed Me, my personal miracle healing story...
HOME, or the Navigation Bar in the left column, to discover all the information and resources available to you on JesusHealingPowerToday.com
Please Take Our Visitor Survey!
This website exists for the needs and interests of it's visitors. Please complete the short, anonymous survey below, so JesusHealingPowerToday.com can better serve you. Thank you!