Healing Testimonies & Miracle Stories of Jesus Healing Power Today

Healing testimonies and miracle stories of the supernatural healing power of Jesus are now becoming a common and documented phenomenon around the world today.

Personal healing testimonies of ordinary, everyday people, from around the world, who have been healed by Jesus are of great benefit, inspiration and encouragement to other people...especially to our website visitors who may need a healing miracle from Jesus, because they have no other hope!
So I invite and encourage the visitors to this website who have been healed by the supernatural healing power of Jesus Christ to share your healing testimonies with us here on JesusHealingPowerToday.com.

If you already have a personal miracle story of Jesus' healing power ...Or, once you are healed by Jesus after discovering and applying the information on this website...
Please share your healing testimonies with us...We all want to hear them!
The healing testimonies you send in will be posted in this section of the website, to inspire and encourage others for their healing.
Complete the Content Form below to submit Your Healing Testimonies Here online: your written text, along with your photos, and your name, will be posted on this webpage.
Has Jesus Healed You Too?
Do you have a miracle healing testimony about how Jesus healed you? Share it!

If you've been healed by Jesus, you've definitely got a story to tell the world about the healing power of Jesus today.

So Shout Out! the great news about your Jesus miracle healing story. And send us your healing testimonies to encourage others.


Read Other Jesus Healing Testimonies...
Click below to see contributions from other visitors to this page...

Healing Testimonies & Miracle Stories of Jesus Healing Power Today

!
More Miracle Healing Testimonies...

Healing Testimonies:

Jesus Heals Woman of Breast Cancer...
I have been fortunate to witness and participate in many Jesus healing testimonies. I would like to share this testimony of a woman healed of breast cancer, by the healing power of Jesus.

I was attending a women's retreat where I was invited to be the keynote speaker.  When it was my turn to speak, I stood and stepped forward.  Before I could even greet the women, an open vision unfolded before my eyes.  In the vision I saw a fist-sized mass of black cells.  Then, as the vision continued, I saw the same fist-sized mass of cells turn pink.  I heard, "Left breast...cancer."
I understood that Jesus wanted to bring healing to a woman in that meeting who had breast cancer.  So I was now expecting a wonderful healing testimony during the women's retreat.  I called out what I was seeing and hearing.  I told the group of women, "I don't know if any of you have had breast cancer, or if you do not even know that you have it right now, or if you are undergoing treatment... but Jesus wants to heal you right now."  
I invited whoever it was to step forward to receive her healing...No one came forward.  Knowing that I had, indeed, seen and heard clearly, I was perplexed. So I just went on to give them my message as the keynote speaker. After the message, I invited them all to come for prayer as a group. 
A lady came forward in the crowd and whispered in my ear, "That was me that you were talking about!  I had breast cancer surgery, to remove the cancer, but it returned."  She had just been to her doctor and received that report.  I told her, "Well, TAKE it...here's your healing from Jesus!" I didn't touch her, but she just fell down under the healing power of God. 
This is her documented healing testimony...after returning to be checked by her doctor...The doctor declared there was no cancer present!  Now she attends our church today, and we both enjoy sharing Jesus healing testimonies whenever we can.
Submitted by Dayna B, California, USA
Healing Testimonies:

Jesus Heals Dying Child In United Kingdom...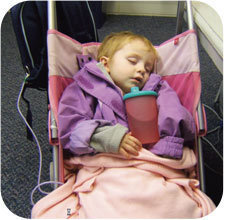 Photo of sickly Hannah sleeping in a stroller, with attached feeding tube & portable food pack machine
Hannah's Amazing Story
- Nearly Too Good To Be True Healing Testimony -
The morning of February 8, 2006, Carol Dupree answered her door in Norfolk, England. Her son-in-law, Ashley Terradez, stood there. Over his shoulder she saw her daughter, Carlie, waiting in the car with three-year-old Hannah in her arms.
A few minutes earlier, they had dropped off Hannah's two older brothers, Zach and Josh. The boys were to stay with Grandpa and Grandma while Mom and Dad took Hannah to the Great Ormond Street Children's Hospital in London.
After three agonizing years, death was reaching out to claim little Hannah. She would not be the first child to die in the Dupree family, nor in the Terradez clan. In fact, childhood death seemed to have followed both families for generations. Even worse, it now threatened Hannah.
They had become born-again believers, casting their hope entirely on Jesus Christ. The family believed in a God of miracles. They believed God could heal Hannah, but they didn't know if He would.
A familiar dread churned in Carol's stomach. Not again, Lord. Please, not Hannah! She was almost unable to speak. "Why have you returned?" she asked Ashley.
"It's going to be a long trip to the hospital," he explained. "I have no CD player in the car. Do you happen to have any tapes we could listen to on the way?"
Carol thought for a moment. This was the Digital Age. Tapes were almost obsolete. But in her mind, she visualized a few tapes that lay in the back of a utility drawer. "Yes, in fact, I do have a few old tapes," she said. "I'll get them for you."
The Power of Partnership
Over the years, Andrew Wommack and his partners have given away millions of free teaching tapes. This healing journey begins with one of those tapes, titled "Your New Identity in Christ," shipped in 1990 to England. After being passed around, it landed in a drawer in the home of new converts, Barrie and Carol Dupree.
It lay silently in that drawer for nearly fifteen years, waiting for this day, when it would finally emerge to fulfill its destiny. As they drove toward London, Ashley and Carlie listened. They were at the end of their rope, the very end.
Their three-year-old daughter Hannah had failed to thrive from the day she was born.

She would suck briefly from a bottle and then projectile vomit. She slept constantly and would be taken by sudden high temperatures. After spending her first week in the hospital, all Ashley and Carlie could do was take her home, wake her every two hours, and try to get her to accept the minimum of nutrition.
Weaning never happened. At ten months Hannah choked, gagged, vomited, and turned blue at any kind of food thicker than puree form. She woke constantly with inconsolable tummy pain. She had little energy and quickly grew listless.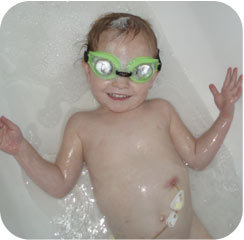 Hannah in bath, see the feeding tube surgical inserted in her stomach
After a year, doctors at the children's hospital in London confirmed a diagnosis. Hannah had a rare autoimmune disease called eosinophilic enteropathy, which meant her body built up allergies to every type of food. Nearly all foods were attacked by her immune system and then rejected by her body.
She was in tremendous pain and losing weight rapidly. As time went by, she became allergic to protein itself. She lost control of her bowels and bladder. Her condition was the worst the doctors had ever seen. The evil of this disorder was appalling.
There was no known cure, only a radical survival method: a feeding tube. After a second year of the disease, as a last resort, doctors agreed to insert a tube into her stomach. She was fed an amino acid formula containing no protein and no known allergens. Everywhere she went she had to be attached to a pump, and the pump had to be meticulously sterilized and reloaded every few hours. Housed in a child's backpack, this pump would be her burden to carry for the rest of her life.
Apparently, that would not be long. They were returning to the hospital in London because now her body had begun to reject the amino acid formula—her last medical hope. The telltale symptoms of pain, screaming, vomiting, and diarrhea had returned.
The Seed of the Word
As they listened to Andrew's tape in the car, Carlie looked down at her exhausted daughter asleep in her arms. She heard Andrew say they had already received healing in the atonement of Jesus Christ. "By His stripes we were healed." Past tense. It was a done deal.
Hannah wore clothes made for a nine-month-old infant. In three years of life, her body weight had never even reached the crisis level on the doctor's growth chart. If Hannah was already healed, Carlie was determined to somehow enter into that reality.
Andrew said God had given believers the authority to resist Satan, command healing, and rebuke symptoms. Carlie brushed little Hannah's head. Her once fiery red hair had grown a dull color, and clumps of it fell out in her hand. She grew angry at this evil disease and determined that if what Andrew said was true, she would pursue it with all of her heart for the sake of her little girl.
Their backs to the wall, the words on the tape found fertile ground in their hearts. Ashley agreed with her completely.
By the time the old tape finished playing in that car, Ashley and Carlie had heard the nearly-too-good-to-be-true news that God wanted Hannah well! He not only could heal her, He would, and He already had! They had never heard those words in their lives before, and after hearing them for the first time, a burst of new hope arose in their hearts. Together they grabbed hold of that teaching like a life vest thrown to a drowning victim.
They rewound the tape and played it again.
Renewing Their Minds
At the hospital, the staff did their best to make Hannah comfortable. Meanwhile, Ashley searched the internet for Andrew Wommack's website. He found it and could not believe the treasure of teaching he could access for free. He downloaded every MP3 teaching available onto his iPod and began renewing his mind. Carlie did the same.
"We'd never heard Scripture revealed so clearly and simply," says Carlie, recalling that special time. "The Word took root in our hearts and became more real to us than what the doctors were saying."
Out of the Mouths of Babes
For five weeks Hannah stayed in the hospital. Carlie stayed with her, relieved at times by Grandpa and Grandma Terradez. Ashley traveled back and forth, fulfilling business obligations. Always, wherever he went, he listened to more teaching from Andrew and shared it with Carlie.
One night, as Carlie put Hannah to bed at the hospital, she joined her for their usual bedtime prayer. The boys repeated the words after Mommy and Daddy, but not Hannah. She always insisted on praying in her own words. "Dear Jesus," she said, "thank You for loving me and for healing me. Keep Zachary and Joshua and Mommy and Daddy safe. Amen."
Suddenly, Carlie heard her daughter for the first time. In childlike faith, little Hannah had been praying a profound truth all along. She had always thanked Jesus for healing her. Past tense. A done deal. A thrill of faith swept over Carlie. The manifestation of the healing that was already accomplished in Jesus was surely just around the corner for Hannah.
"The next time Andrew is in England," Carlie said to Ashley, "we will go see him—whatever it takes."
A DIVINE APPOINTMENT
With sudden inspiration, Ashley returned to Andrew's website. He searched his speaking schedule and could hardly believe his eyes. Andrew was to begin a conference at Charis Bible College in Walsall, England, the very next day! And, as if to confirm God's timing, the doctors approached them and suggested that they take Hannah home. They felt this would give her a much-needed break from the poking, needles, and testing.
As they all packed into the car, Ashley turned to his wife and said, "Carlie, we have never heard any teacher who is so positive, that it is always God's will to heal. Everyone else tells us sometimes God does not heal. Andrew rejects this, and now, so do I. When Andrew prays for Hannah, I believe she will be healed."
"I agree 100 percent," Carlie replied.
"Once at the conference," Carlie recalls, "we kept waiting for an opportunity to get prayer for Hannah." On the third and final day of the conference, Hannah showed signs of great distress. The vomiting, diarrhea, tummy pain, and screaming became intolerable. Ashley and Carlie fought a battle against discouragement. Either Hannah received healing on this last day, or she would more than likely die.
A Second Divine Appointment
As they sat in the morning session, Hannah was in so much pain that Carlie had to take her to the back room designated for mothers and babies. She watched helplessly as her suffering child screamed and writhed on the floor. The other mothers assumed it was an unrestrained tantrum and took their children out, leaving her nearly alone.
Ashley rejoined her and they talked about leaving and going home. Keeping Hannah there was just too disruptive for the other people.
Just when they were about to give up, however, God sent help. Lesley Decker, the Charis Bible College-U.K. director's wife, happened to come into the room. With Hannah screaming in pain, she began ministering to Carlie and Ashley. As Lesley prayed, Hannah fell into a deep sleep, providing welcome relief for everyone. Lesley promised them that she would return to the room with Andrew, and he would pray for Hannah.
When the session ended, Andrew and Jamie arrived. They first listened to Carlie and Ashley tell the entire story of Hannah's illness.
"After hearing it, he told us that healing Hannah was a 'piece of cake' for Jesus and that all we needed to do was believe it and agree with him in prayer," recalls Ashley. With Andrew's expression of confidence, Ashley felt his faith rise and his unbelief and discouragement leave.
Andrew began by quietly taking authority over Satan, telling him he had to leave, and then he commanded Hannah's body to stop attacking food and to be well. The Terradezes hung on every word of his simple prayer, agreeing completely with God's promises to them. Andrew told Carlie and Ashley that their faith must now be proven—they needed to "walk out" what they just said they believed.
I Want McDonald's!
When Andrew and Jamie left, Hannah continued to sleep for another thirty minutes. This gave Ashley and Carlie time to discuss what they should do to "walk out" the healing she had just received.
Another mother had remained in the room with them during the prayer. She took a picture of Hannah as she slept after Andrew left. Together they discussed the kinds of mild foods they might feed Hannah to ease her body back toward a normal diet. After such severe deprivation, a sudden intake of the wrong kind of food could kill her. They wanted to act in faith, but they also wanted to be wise.
Hannah awoke. She was completely calm. Ashley bent over her. "Hannah, while you were asleep, Jesus healed you."
Without hesitation, she brightened and said, "Then I want to go to McDonald's!"
Carlie looked at Ashley dumbfounded. "She's always been ahead of us in faith," she said.
Hannah's five-year-old brother Zachary piped up, "Now that Hannah's healed, she won't need her tube anymore."
To that, Hannah added, "Yeah, and I can eat anything I want now!"
That settled it. Carlie promptly unplugged Hannah's feeding tube. She took the bag of costly medicines that had been used hour-by-hour to sustain her life, and hid them away.
Unable to find a McDonald's, the family went to a Kentucky Fried Chicken instead. That afternoon, Hannah ate chicken nuggets, ice cream, yogurt, cheese, chocolate, and fruit juice—something from nearly every food group!
As Ashley watched her eat, he could hardly contain his excitement. He sent a text message to his mother, Linda, in Essex, England: "Praise God. Hannah was healed…She has been eating like a trooper…Jesus has healed her 100 percent. Just like the Word tells us so! First Peter 2:24."
After the meal, the Terradez family got back in the car to return to the final evening session of the conference. They were bouncing with excitement and divine energy. They would testify before the group that it is always God's will to heal, and all we have to do is believe and take our authority in Christ.
But suddenly, a terrible sound sent a shiver of fear through everyone in the car. From her safety chair in the rear seat, Hannah began to gag and cough. This familiar sound was an absolute precursor, always leading to vomiting, violent pain, and diarrhea! Her brothers began to duck for cover.
In only a moment,

Ashley remembered Andrew's teaching about not speaking to God about a problem but speaking to the problem about God. He turned in his seat and said, "Choking, gagging, in the name of Jesus, I command you to stop!"
A calm settled over Hannah. She swallowed and stopped choking. The boys emerged from hiding. In another moment, she was laughing and playing with her brothers again.
In the days ahead, this scene was repeated once more with the same result.
From the day in Walsall when Carlie disconnected the feeding tube, it has never been used again. Nor have they used any of the expensive medicines that had once been so necessary for Hannah's survival.
The Miracle Girl
This is our miracle healing testimony...When Hannah was brought back to the children's hospital, the doctors had no explanation for the incredible transformation in her. She ate anything she wanted, was symptom free, and started to gain weight. Her hair color was returning, her eyes sparkled, and she had boundless energy. They could find nothing at all wrong with her. Even her blood tested perfectly.
After nine months of healthy eating, they finally appointed a day to remove the feeding tube from her tummy. As she slept peacefully in a hospital bed, they shook their heads and wrote "Perfect!" across her medical report. They call her the "miracle girl" to this day.
This miracle story and healing testimony of Hannah, by parents, Ashley and Carlie Terradez. The full story, with video, are available at Andrew Wommack Ministries, click here to view it.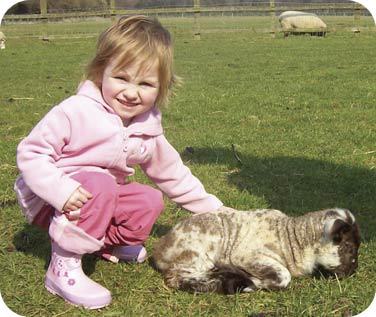 Hannah restored to health after Jesus healed her
Healing Testimonies:

Tumor Disappears After Healing Prayer In Jesus' Name...

I would like to share one of my healing testimonies...
My husband and I pastored a small congregation for about 5 years.  A lady was brought to me at the end of a Sunday morning church service as I was leaving to go to a post-service meeting in another building.  Tears were streaming down her face.  She was obviously in a lot of pain.
She told me that for 10 years she suffered with pain and that she couldn't even lift her hands to worship or praise the Lord.  She had been to a doctor and x-rays revealed a tumor at the base of her neck along her spine.  People were already waiting for me to arrive at the meeting, so I was in a bit of a hurry and quite irritated at the thought of being late, as well as this person not being able to worship. 
I set my belongings down and laid hands on her head and began praying in the name of Jesus, commanding extraction of anything not of Holy God in any part of her body, organs, etc. When I specifically commanded pain to leave her, she jumped and I literally saw something leave her body.  After I prayed that, I asked the Holy Spirit to fill her in every part of her body, and I went on to my meeting. 
Sometime later, she came to see me, to give me her miraculous healing testimony... bringing the June x-ray, revealing the tumor, as well as her August re-evaluation x-ray, in which no tumor showed up!  So, we had the before and after proof that the healing power of Jesus Christ had completely healed her.
D.B., USA

Healing Testimonies & Miracle Stories of Jesus Healing Power Today

!
More Miracle Healing Testimonies...
Jesus Miracle Missions In Brazil...Dying man living on  a garbage dump healed in Rio de Janeiro, Brazil, 2017

Healing Testimonies:

Jesus Heals Woman With Lupus, Multiple Incurable Illnesses

Teresa is a woman with a powerful healing testimonies...a miraculous demonstration in 2014 of the healing power of Jesus today, the truth and effectiveness of the Word of God, the healing scriptures of the Bible, and the Love of Father God.
Teresa loves to share her healing testimony every chance she gets!
She also happens to be a good friend of the author of this JesusHealingPowerToday.com website. We celebrate, and thank God for her recent healing, after years of suffering with several medically incurable illnesses.

Watch as Teresa shares her healing testimony in her own words...
"My dominant emotion was fear. The disease that was in my body was slowly killing me from the inside out, and there was nothing I could do about it." Teresa H.
Every six months, Teresa had the blood work checked on each of her organs to see if they were still functioning properly, because of the deadly and incurable Lupus AND Sjögren's syndrome that were destroying her body. After enduring the disease for several years, it became something she lived with.
However, that all changed in 2007, when Teresa re-dedicated herself to God.
But Teresa's body did not immediately line up with the transformation that had taken place in her heart. Her physical symptoms worsened.
"The emotion that followed was pure confusion," shares Teresa. "I just couldn't grasp that I would get sicker when I was walking so closely with the Lord." 
Some friends gave her Andrew Wommack's You've Already Got It! teaching, and in 2012, her husband, Patrick, started his first year at Charis Bible College. Teresa enrolled a year later.
For Teresa, her transformation was well on its way, as everything she had been studying and meditating on for six months culminated at Healing School. 
"Somebody spoke a word from the stage, and immediately, the dominoes of revelation I had received just fell. I heard Father God say to me, 'You are healed from the top of your head to the tip of your toes, and you will walk in divine health.'" Teresa's journey brought her to a place of complete health and freedom. However, she will be the first one to tell you that it was not overnight. 
"I know how I got healed, and I got healed by the Word of God. I know that no matter what comes my way, His Word is true, and no one will ever be able to take that away from me."
(From Teresa's Charis Bible College blog post, excerpt with permission)

Teresa Houghteling, Woodland Park, Colorado, USA
Send Us Your Testimony When You Are Healed By Jesus!
See my own miracle healing testimony...
Jesus Healed Me, the author of this website
You might also enjoy....
FREE Weekly Healing School Teachings (Watch free online live-stream, or free on-demand video archives)...
Healing Scriptures Of The Bible...
HOME, or the Navigation Bar in the left column, to discover all the information and resources available to you on JesusHealingPowerToday.com

Please Take Our Visitor Survey!
This website exists for the needs and interests of it's visitors. Please complete the short, anonymous survey below, so we can better serve you. Thank you!
[HOME]
› [Healing Testimonies]