Jesus Miracle Missions In Brazil

Miracles on a Garbage Dump in Rio, Brazil
2017 Update

Jesus Miracle Missions In Brazil...Miracles, Missions, & Surprises in Brazil, 2017 Update

Dear Friends and Partners of JesusHealingPowerToday/Susan Palmer,
And a big Hello to all my friends in Brazil!

My name is Susan Palmer and I am the founder and webmaster of this Jesus Healing Power Today website. If you've read my Jesus miracle healing testimony, you know Jesus healed me of an incurable condition...and He's been healing other people through me ever since!  Then I launched this website to take the Good News of Jesus' miracle healing power to the entire world via the internet...and now He has new surprises and adventures ahead for me!

What an amazing and unexpected journey I am having since graduating from Charis Bible College last May! It has truly been an unexpected journey of Miracles, Missions, and Surprises!  After the demanding schedule of fulltime bible college plus my ministry duties I took some time apart and and had the glorious opportunity last Fall to spend many hours every day for weeks in quiet time with the Lord Jesus...praying in the Spirit for His perfect will, reading the Bible, soaking in the Presence of Jesus' amazing love, and yielding more and more to manifested Presence and the leading of the Holy Spirit, as I sought God's will for my life in the new season following my bible college graduation. I continued my healing ministry to all who came to me through various avenues. I also continued working on the Jesus Healing Power Today healing website, which provides Jesus miracle healing testimonies from around the world, teachings, and free resources on how to be healed by Jesus' supernatural power today, and how to heal like Jesus. Visitors to the website continue to grow every month...currently approaching 2000 visitors and 119 countries worldwide per month, including many countries that are closed/hostile to Jesus and the Gospel. Many people are being introduced to, touched and healed by Jesus as a result of this website. So a big "Thank You" to each of you who has donated and supported the ongoing work of this online healing ministry, www.JesusHealingPowerToday.

However, in 2017, Jesus is now taking me, with His miracle healing power and Gospel of Grace message, to the nations..not only via the internet, but in person!  I spent the entire month of January on the mission field in Brazil, where I attended the Iris Global (Dr. Heidi Baker's) Mission School in Rio de Janeiro, Brazil. There I had the life-changing opportunity to minister to the poorest of the poor on the Gramacho Garbage Dump, the largest garbage dump in South America.  There are no words that can describe the abject poverty and sense of utter hopelessness in this place! Death and dying abound everywhere, vultures circle overhead by the hundreds, people build flimsy "houses" in the dirt, surrounded by piles of garbage, medical waste, carcasses of dead animals abound, yet human beings are living in this hellhole of 100-120 degree Fahrenheit  daily temperatures, with no running water.... where witchcraft and drug dealers prey on the poor!  I have included a few photos of  the Gramacho Garbage Dump in Rio, Brazil where I ministered this past January...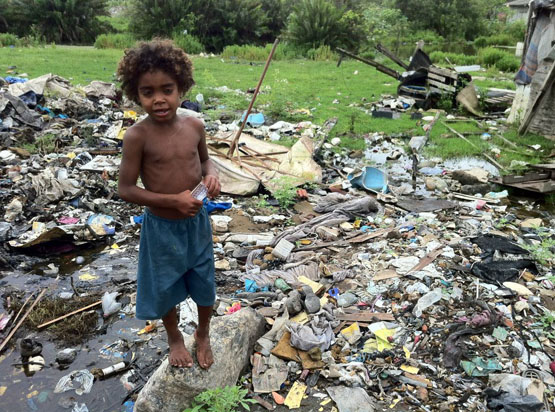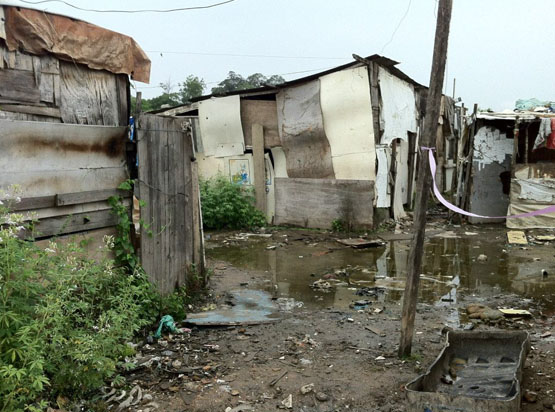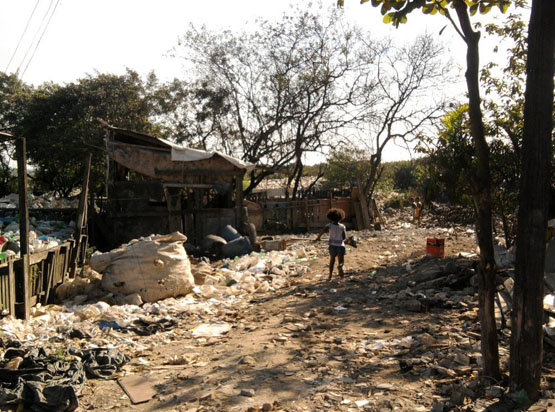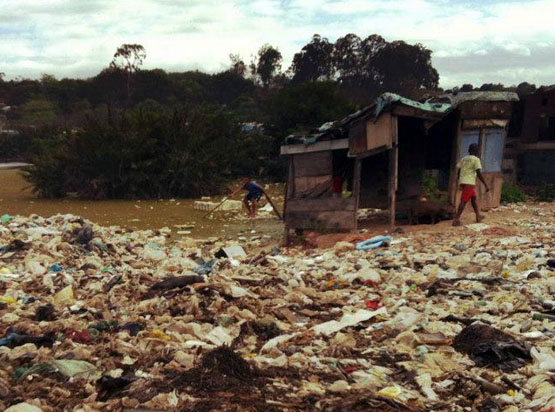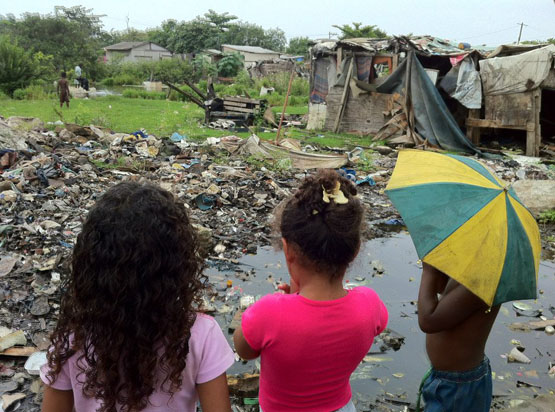 Jesus Miracle Missions In Brazil...
Miracles on a Garbage Dump in Rio, Brazil, 2017
This is how my New Year began, by the leading of the Holy Spirit, who instructed me to GO! to Brazil with Iris Rio and bring the miracle healing power of Jesus and the Gospel of Grace message to these people, to the poorest of the poor in Rio...to people who have been discarded by society, thrown away as worthless, just like the trash that surrounds them.But  Jesus calls them Precious to the Father! And I had the opportunity to be an instrument of His miracle healing power to many of these people....sick babies and children, frazzled mothers, healings for cuts, broken bones from falls and accidents, a mute man began to speak, a deaf woman began to hear, the love and power of Jesus touched many of these people. And Iris Ministries in Rio has a small church located right in the middle of this garbage dump to spread the Gospel, where we directed the people to come and learn more about the love and Good News message of this Jesus who just healed them!
However, for me personally, the most profound and life-altering healing ministry I was privileged to be used my Jesus for was for a former pastor on the verge of imminent death.  This man's wife came up to the Pastor of the Iris Gramacho church, saying her husband was sick and would we come pray for him.  So I went with Pastor Marcus to their "house"...like the building you see on the right below...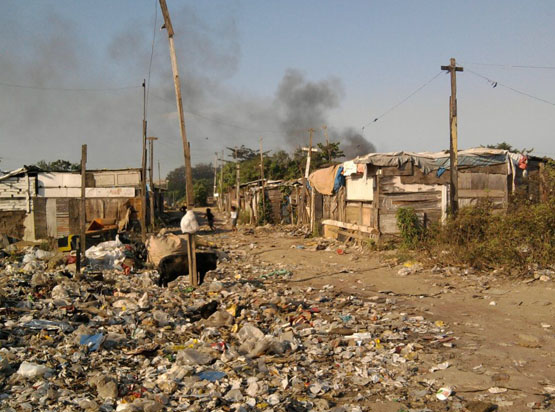 Jesus Miracle Missions In Brazil...




Miracle Healing: A life healed and saved on the dump!



There was no light in the place, no windows, no air moving, 120 degrees, the stench was unbelievable, dirt floor, and a man lying on a filthy mattress with no bedding., flies and bugs crawling everywhere I literally had to pray for the grace and strength of God to remain in that setting, because the heat and stench was so overwhelming! Pastor Marcus, our translator, knew a little about this man...turns out he had once been a pastor in Brazil, now backslid for 22 years, had gotten into alcohol, lost everything and had been living in this dump for years. So the pastor thought we were going to pray, at the wife's request, for his salvation and deliverance from alcohol.  However, when we arrived we found him on the mattress, sweating profusely, and in much pain, and almost lifeless.  We then learned that he had cancer, and had also gotten dengue fever, a mosquito-born deadly disease. He'd had a high fever for days, had been vomiting blood, and they had no hope for him...But Jesus!  My heart literally broke for this man, a former pastor...I fell at his feet sobbing, laying hands on him, commanding cancer and the fever to go, for the life of Christ to come into his body and that He not die. I say in the dirt.holding his feet and praying in tongues for 20-30 minutes. as Pastor Marcus also prayed in the Spirit. Then we left...My heart has never been so broken open with the love of Jesus for the poor and for a lost and dying human soul!

The next week, I went back to his shack to check on him. Miracle of miracles!...He was up, smiling from ear to ear, the fever was totally gone, and there was a light in his eyes that could only be the presence of Jesus!  He was praising God for his miracle healing and said he believed the cancer was gone too, and said he had a follow-up appointment with the doctor who diagnosed him with cancer.  The following week, he told me there was no sign of cancer now in his body.  I told him to go to Pastor Marcus's church and give his miracle healing testimony...which he did. Then Pastor Marcus began weeping, because he had never seen a miracle like this. The local community in Gamacho Dump now knows Jesus miraculously healed him and are coming to the church.This backslid pastor of 22 years has now committed to help Pastor Marcus and the Iris Gramacho church minister to the local people in the dump...Thank you, Jesus!
Jesus Miracle Missions In Brazil




Reaching Unreached People Groups and Helping the Poor



Invest in the Kingdom of God!: Your Opportunity To Reach The Nations, Help The Poor And BE BLESSED As You Bless Others!

I am asking each of you reading this Miracle Update from Brazil to join me in the harvest of  lost, hurting, and dying human souls, as Jesus is bearing fruit for His Kingdom through this Jesus Healing Power Today ministry. I am therefore inviting individuals, churches, and Christian organizations to support this ministry and to partner with me on a recurring monthly basis or with a one-time offering.
If you are a believer in Jesus Christ, you know the importance of completing Jesus' Great Commission, giving your financial support specifically to reach Unreached People Groups, and you also have the Jesus' heart to bring the Good News of Messiah, along with practical help for their physical needs, to the poor. So I ask you please pray and ask our Father God in heaven, if He wants you to contribute financially to this healing ministry and outreach and help take the Gospel of Grace and the miracle healing power of Jesus to unreached people groups and to the poor.through your financial support of Jesus Healing Power Today.

This healing ministry is now reaching un-reached people groups in the nation of Israel...including God's "chosen people," the Jews, from whom our salvation has come through the Jewish Messiah, Yeshua/Jesus of Nazareth, the Seed of Abraham, and to the sons of Ishmael, the Muslims in Israel. Please help me make Jesus famous by demonstrating His miracle healing power to the nations. As the Lord leads you, please give whatever amount He puts on your heart to sow into my labor of love as a cross-cultural missionary bringing the Gospel of God's Grace and Jesus' miracle power to heal all who are in need and to bring unreached people groups into the Kingdom of God. I thank you in advance for having the heart, the obedience to the Holy Bible, and for your generosity in sowing your financial seed into this ministry! 
Every financial seed you sow is gratefully received, and, in advance, I declare the Lord's promised harvest of 30, 60, a hundred-fold back to you.

Both recurring monthly donations and one-time offerings are appreciated. International supporters can contribute in your local currency through the DONATE BUTTON on the www.JesusHealingPowerToday.com website, or via the ministry PayPal account; send your funds to "jesushealingpowertoday@gmail.com" (NOTE You can contribute by debit/credit card or echeck through PayPal) .

USA supporters can make tax-exempt donations to the "Susan Palmer Ministry" account, set-up through Church For All Nations. Please use this link if you want receipts for tax-exempt donations, https://churchforallnations.ccbchurch.com/form_response.php?id=373 . Designation - Ministry/Susan Palmer churchforallnations.ccbchurch.com Church For All Nations Form Indeed,
THE BEST IS YET TO COME. I can't wait to see what awesome things Jesus is going to do next throughout the world! As believers, we are privileged to be living in the end times and invited to help bring into the Kingdom of the Living God this extraordinary harvest of souls before the Lord Jesus returns!

You might also like to view...
Jesus Healed Me! Read/Watch Susan's healing testimony
Please Take Our Visitor Survey!
This website exists for the needs and interests of it's visitors. Please complete the short, anonymous survey below, so we can better serve you. Thank you!