Jesus Heals Autism, & He used me as His healing hands!
by Faye S.
(Tennessee, USA)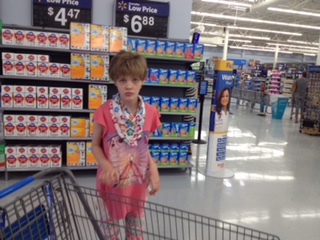 Andie's Story
Date: July 9, 2015

Here's my account of Andie's awesome healing from autism. It's a bit lengthy but worth reading as it glorifies our awesome Father & our Savior Jesus.

Note:
Andie's grandmother says that Andie was fine until she was close to two years old. They believe the cause for Andie's autistic condition is that she was given too many inoculation/vaccination shots at one time. Andie will be 20 years old October 2015. My heart is saddened that she's been held captive for 18 years. But, I declare by the name of Jesus, Andie will be perfectly restored.

Tuesday Recap: When I went for the 1st time on Tuesday, Andie had the typical autism glazed, far-away stare, no direct eye contact & very little responsiveness to anyone. Her hands were pretty much knitted together, drawn tight. The same with her ankles & feet.

After commanding the unclean spirits to leave her, speaking over her body & mind Andie changed. The glazed stare left her & she would look attentively at us. She began to move around more. Getting up walking with me around the room. Then I would ask her if we could go sit back down. She would look at me & turn & go back to the couch & sit down. Then I would ask her to get back up & walk with me again. We did this several times Her walking improved greatly. She was smiling, & before my visit was over, Andie was laughing out loud. She would get up, go look at something, stare at it. Then go sit back down with this strong concentration look. It was as if she was taking it all in for the first time.

Later that day Andie's Aunt Dallas came over. She mentioned to her mom (Andie's grandmother) that Andie seemed better & was walking better. Dallas did not know about my visit earlier that day. Dallas confirmed the drastic change in Andie that Grandma Jennie & I witnessed that day! Praise God & thank you, Jesus!

Wednesday: I went back again the next day. I laid hands on Andie again & spoke over her again. I spoke to her brain, her mind and her body.

I would ask Andie, "let's get up & walk together." As I would stand up, she would look at me, I'd hold out my hand & "say come on, let's walk." Andie would get up & walk with me! Then I would say, "let's go back & sit down" & she would go back to the couch & we would sit back down.

As I would sweetly, softly pray in tongues (the supernatural prayer language of the Holy Spirit), we would look at each other eye to eye. Her eyes & face had this amazing look of pure absolute peace. She actually laid her head down, closed her eyes smiling as I prayed in tongues. It was music to her ears. It was like rocking a baby to sleep. That was awesome! Grandma Jennie was brought to tears watching theses amazing changes.

Then, we continued to do things together. I started asking her to take my hand & precious Andie would take my hand. We would walk together. Then she would look at the door knob. So I showed her how to turn it. Asked her to put her hand on it. I taught her to turn it.

Next, she started moving her arms & hands. Grandma Jennie was just amazed. Then I asked Andie to clap her hands. After watching me do it a few times, Andie put her hands together and started clapping. That must have been fun, she started smiling & then laughing!

Then I held out a bottle of water. She almost had a look of fear. Andie had been discouraged in using her hands. She was told not to because she couldn't control them, usually knocked things out of a person's hands & would even violently throw stuff. This was a scary thing for her.

I gently took her hand and placed it on the bottle. She took it. Then I would hold it out, handing it to her. She would literally reach out & take it! Awesome, awesome, awesome!

I finally set the bottle in the floor. Looking at it, Andie decided she wanted it. She leaned down, reach over, took the bottle off the floor & brought it to her mouth & wanted to drink from it.

I put it in her lap. She didn't like it there, would pick it up and move it. Not throw it. Just pick it up, move it over & sit it on the couch beside her. She did this three times.

Oh there's much, much more! Like Jesus's disciple, John, said, there's just not enough room to record all the great works of Jesus!

Here's the add-on blessing that I get to see every time GOD's power is witnessed. Andie's mom, Kariane, came to the house because of Grandma Jennie's phone call with the nearly too good to believe report of Andie's improvement.

As I was preparing to leave, I went outside, sat down with Kariane. I asked her specific questions about what Andie was able to do prior. As I told Kariane all the different things Andie did, the walking, door knob, clapping, holding the bottle of water. With tears, Kariane asked me, " what did you do, how did you get her to do that." I told her it was all Jesus. I only came to deliver what Jesus wanted to give to Andie.

Kariane told me that she was an atheist & had never believed in God.

But it was obvious from the flood of tears that the door to her heart had flung open!

I sat & talked to her for about two hours about Jesus healing Andie & how wonderful the Living God really is. I told her a few miracle & healing stories that I had eye witnessed first hand. Then I explained to her about the finished work of Jesus & ALL that Jesus did for us on the cross. Yep, the Gospel (Good News) Jesus Christ was planted in a very hurt & broken heart that day & gladly received.

Kariane told me she had never met anyone like me. That I was the 1st person she had met that made her want to know about God.

She asked how she could learn more. I left her with some booklets, one about the power of our words (the power & impact they have), along with the book "God Wants You Well," by Andrew Wommack. I told her that I would send her a free website link where she could listen to some free teachings by Andrew Wommack about God's goodness, and miracle healing power.

Here is a text message from her...
Lol. I'm taking this pretty serious. You may be the first person that has really peaked my interest as an adult in the Bible and I'm 38.

Kariane is now getting to hear about our loving Father & Jesus!

Another great day of the Kingdom of God manifesting on earth. Thank you, Jesus!