Messiah Yeshua (Jesus) Heals Cancer In Jerusalem!
by A believer in the Jewish Messiah, Yeshua of Natzaret
(Jerusalem, Israel)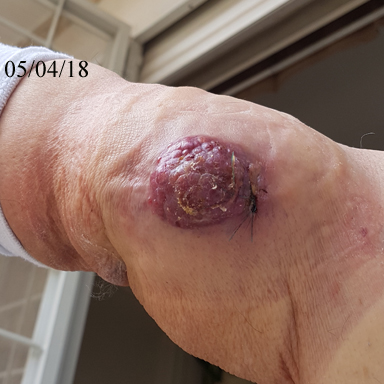 Large cancerous tumor on the man's right arm
Praise report!... Two weeks ago at my Messianic Jewish weekly Shabbat service, I learned that the husband of a member of our Kehila (congregation) had just been diagnosed with cancer. His wife told me he had a very large ugly tumor on his right arm the size of a lemon and it was growing larger every day!

Her husband went to his doctor to have it examined and the doctor was VERY concerned about what he saw and ordered a biopsy. The couple had just gotten the medical report from their doctor that the tumor was cancerous & a very aggressive type of cancer, so the doctor was sending them to a cancer specialist in Israel to discuss their treatment options...but their appointment with the cancer doctor was weeks away.

I offered to go with this woman to their apartment to pray for the healing of her husband, telling her that Yeshua of Nazareth, the Messiah of the Jews and of the entire human race, miraculously healed me of an incurable condition. And because I am a "born-again" by the Holy Spirit believer in Messiah Yeshua, He also works miracles of healing through me, in accordance with His Word in the Brit Hadassah/Bible (Mark 16:15-28).

So I went and prayed for this man on May 2, 2018...commanded the tumor to die and disappear, and for him to be Cancer-Free in the power of the Name and by the Blood of Yeshua HaMaschiach/Jesus Christ. Yesterday, May 24, 2018, the wife sent me an update...HER HUSBAND'S TUMOR IS GONE! To Yeshua/Jesus be all the glory, He alone is the Healer.

Here is her message..."Thank you! All that's left now is just a scab and that is drying up and shrinking too.😀 Hallelujah!"

I LOVE destroying the works of the enemy! May we...every believer in Messiah Yeshua/Jesus Christ... all be bold here in the Land of Israel, and in every nation, to heal the sick in Messiah Yeshua's name, as He has instructed us to do, in order to demonstrate the Love and Power of the One, the only, Living G-D. And to proclaim the Good News of the Kingdom of G-D that is freely available to all people through Messiah Yeshua's willing sacrifice...By the shed blood of the Lamb of G-D, Messiah Yeshua/Jesus, our sins are forgiven by Holy G-D, and our bodies are healed! That is Good News...Our Abba Father, The Lord Of All Creation, Loves Every One Of Us Unconditionally, Hallelujah!